Active Paws will provide an outstanding level of service and most importantly understanding and support for paw'd friends and their owners. At Active Paws we are committed to providing a Center with a high standard of safety and hygiene for animals, owners and Animal Health Professionals using our services.
Active Paws is owned by Vicki Cordier. Vicki holds a Certificate in Veterinary Nursing from Otago Polytechnic and completed a Canine Hydrotherapy Theory and Practical training course in the UK in November 2008.
Active Paws is dedicated to the memory of a dearly loved Saint Bernard, Bella. Bella taught Vicki so much about caring for an elderly pet. Bella would have so much enjoyed (and benefited from) the Hydro Physio underwater treadmill.
Canine and feline friends and their owners will all be welcome at Active Paws.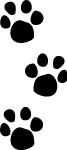 Vicki